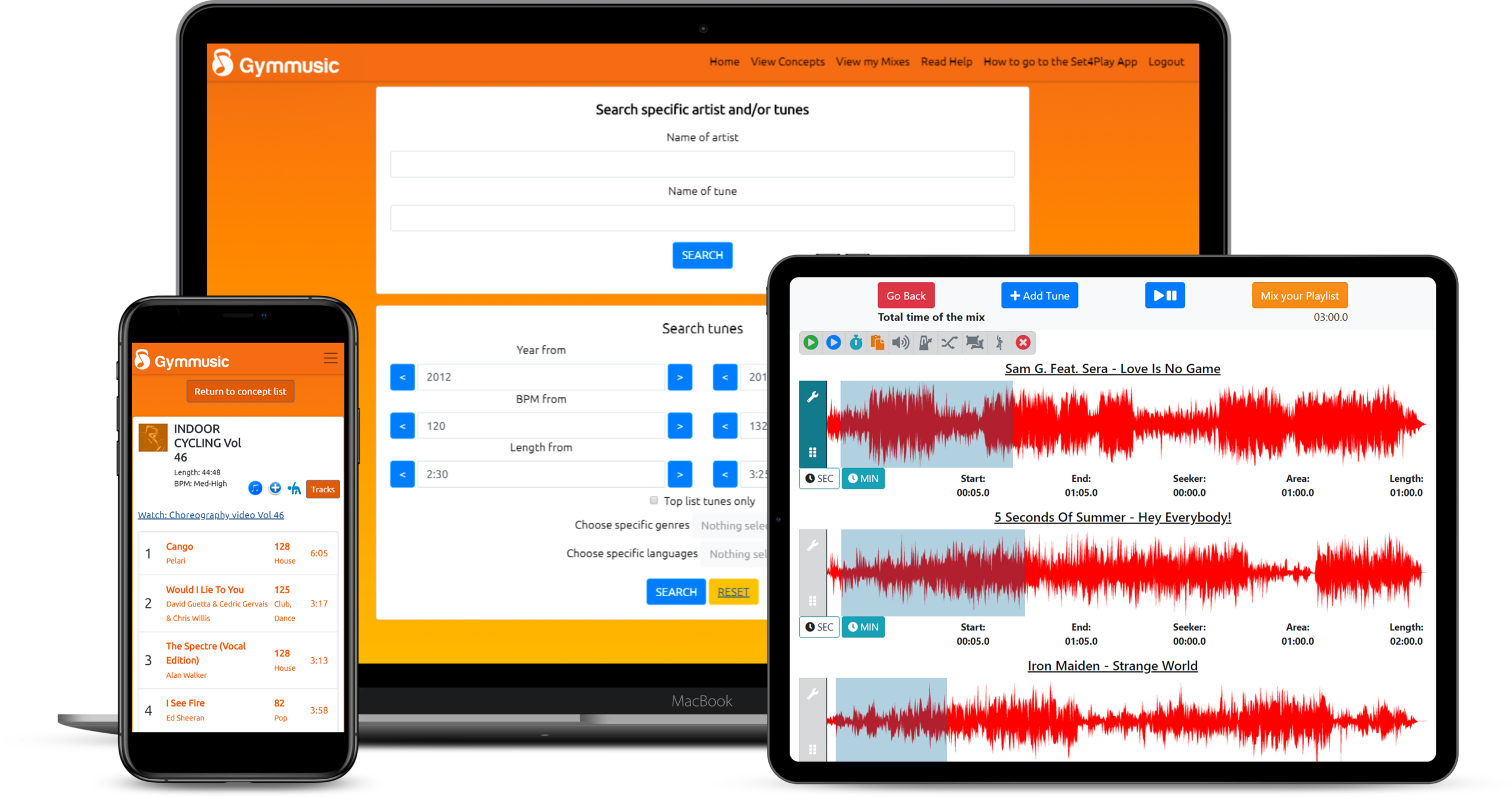 Set4Play
All-In-One Content Solution for Fitness Concept Administration
Music Ser­vice for Fit­ness Professionals
Group Fit­ness Concept Mana­ge­ment Tool for Chains
Add-On Plat­form for Onli­ne Training
Instructor
Set4Play for Ins­tuc­tors is an all-in-one group trai­ning music ser­vice for instruc­tors, inclu­ding intel­li­gent play­list and mixing tools.
Self emplo­yed instructors
Gyms and trai­ning centres
Phy­sio­te­ra­pists
And many more!
Gyms / Leisure Centres
Set4Play for Gyms is a fit­ness music softwa­re that can be used for all types of sport venues. With Set4Play your instruc­tors can easi­ly crea­te their music mixes at home and then play the mixes in your venue.
Inde­pen­dent gyms and trai­ning centres
Lei­su­re cent­res and swim­ming halls
Enterprise
Set4Play Enterpri­se is a con­tent solu­tion for group fit­ness music and cho­reo­grap­hy pro­duc­tion, distri­bu­tion and play­back. Our ser­vice enables easy pro­duc­tion of own group fit­ness concepts.
Gym Chains
Orga­ni­sa­tions with many Instructors
Group Trai­ning Programmes
Group Fit­ness Brands
Lar­ge Sports Organisations
Made for group training
Set4Play is an ideal music ser­vice for deli­ve­ring any group fit­ness class that for example has mul­tiple timed periods of acti­vi­ty fol­lowed by timed reco­ve­ry periods.
Group cycle classes
Cross­fit-type workouts

HIIT

Circuits
Taba­ta sessions
Dance Clas­ses
Tram­po­li­ne workouts
Aero­bics & Weigh­ted Aerobics
Stretc­hing sessions
Yoga clas­ses
Step
Pila­tes
Any wor­kouts that have a periods of timed activity!
Trusted by over 500 training centres in Europe

Since 2010 Gym­music has specia­lized in pro­vi­ding music to the fit­ness industry. We pro­vi­de music solu­tions exclusi­ve­ly to group trai­ning envi­ron­ments and gyms.

Over 500 gyms and trai­ning cen­ters in Swe­den, Fin­land and the UK trust our exper­ti­se. Some of our refe­rences: Fris­kis & Svet­tis, STC Trai­ning Club, Well­ness Stu­dio, Lady­Li­ne, Easy­Fit, Fres­si, Liik­ku and many more.
Order Your Free Trial of Set4Play Music Service!
Sign up through the form below for a 30-day free trial. We'll help you get star­ted with a remo­te onboar­ding ses­sion. Get in touch with us now and start saving your time and impro­ving your group fit­ness music.