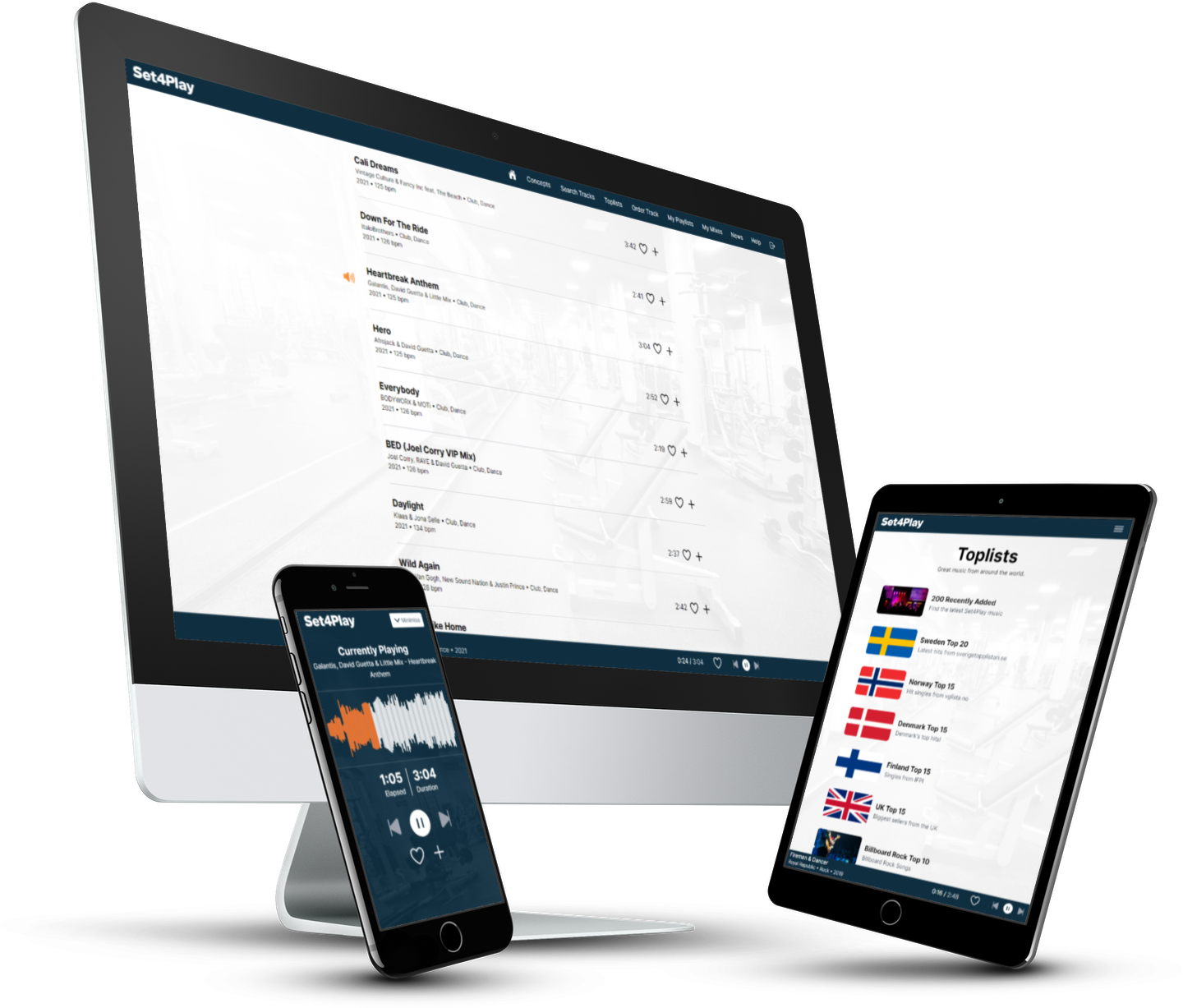 Set4Play
The All-In-One Music Solution for Group Exercise Classes
Set4Play has been desig­ned to enable you to crea­te, distri­bu­te, and deli­ver group fit­ness wor­kouts with ful­ly synchro­nized music, cho­reo­grap­hy, and acti­vi­ty infor­ma­tion for you or your Instruc­tor base.
Set4Play har­nes­ses your exis­ting skills to sha­pe and cho­re­graph wor­kouts, hel­ping to rein­force your brand and the qua­li­ty of your group exerci­se classes
Set4Play brings qua­li­ty assu­rance, rapid deplo­y­ment, and effec­ti­ve­ness to group fit­ness administration
Set4Play group fit­ness music is avai­lable on any inter­net con­nec­ted PC/Mac, lap­top, mobi­le pho­ne, or tablet. No addi­tio­nal, ser­vice speci­fic hardwa­re is required.
Choose your flavour of Set4Play
Instructor
Set4Play for Ins­tuc­tors is an all-in-one group trai­ning music ser­vice for instruc­tors, inclu­ding intel­li­gent play­list and mixing tools.
For self emplo­yed fit­ness professionals
Disco­ver great legal wor­kout music
Crea­te you group exerci­se class mixes
Add your cho­reo­grap­hy and notes
Deli­ver your clas­ses, great sound, prompts and support
Gyms / Leisure Centres
Set4Play can be used for all types of sport venues. With Set4Play your instruc­tors can easi­ly crea­te their music mixes at home, or be sent the Mixes you have crea­ted and then play the wor­kouts in your venue.
For inde­pen­dent gyms, lei­su­re cent­res and trai­ning halls
Ori­gi­nal artist music or roy­al­ty free
Legal and rights owner compliant
Power­ful admin tools
Enterprise
Set4Play Enterpri­se is a con­tent solu­tion for group fit­ness music and cho­reo­grap­hy pro­duc­tion, distri­bu­tion and play­back. Our ser­vice enables easy pro­duc­tion of own group fit­ness concepts and secu­re, mana­ged distri­bu­tion to your Instruc­tor base.
For Gym Chains, mul­ti site venues and orga­ni­sa­tions with many Instructors
Group Trai­ning Programmes
Group Fit­ness Brands
Made for Group training
Set4Play is the ideal music ser­vice for crea­ting and deli­ve­ring any group fit­ness class, but par­ticu­lar­ly for any class that has mul­tiple timed periods of acti­vi­ty fol­lowed by timed reco­ve­ry periods.
Set4Play has been 3 years in deve­lop­ment and crea­ted in con­junc­tion with lea­ding experts in the field of fit­ness and group exercise.
Group cycle classes
Cross­fit-type workouts

HIIT

Circuits
Taba­ta sessions
Dance Clas­ses
Tram­po­li­ne workouts
Aero­bics & Weigh­ted Aerobics
Stretc­hing sessions
Yoga clas­ses
Step
Pila­tes
Any wor­kouts that have a periods of timed activity!
Trusted by over 500 training centres in Europe

Since 2010 Gym­music has specia­lized in pro­vi­ding music to the fit­ness industry. We pro­vi­de music solu­tions exclusi­ve­ly to group trai­ning envi­ron­ments and gyms.

Over 500 gyms and trai­ning cen­ters in Swe­den, Fin­land and the UK trust our exper­ti­se. Some of our refe­rences: Fris­kis & Svet­tis, STC Trai­ning Club, Well­ness Stu­dio, Lady­Li­ne, Easy­Fit, Fres­si, Liik­ku and many more.
Order Your Free Trial of Set4Play Music Service!
Sign up through the form below for a 30-day free trial. We'll help you get star­ted with a remo­te onboar­ding ses­sion. Get in touch with us now and start saving your time and impro­ving your group fit­ness music.